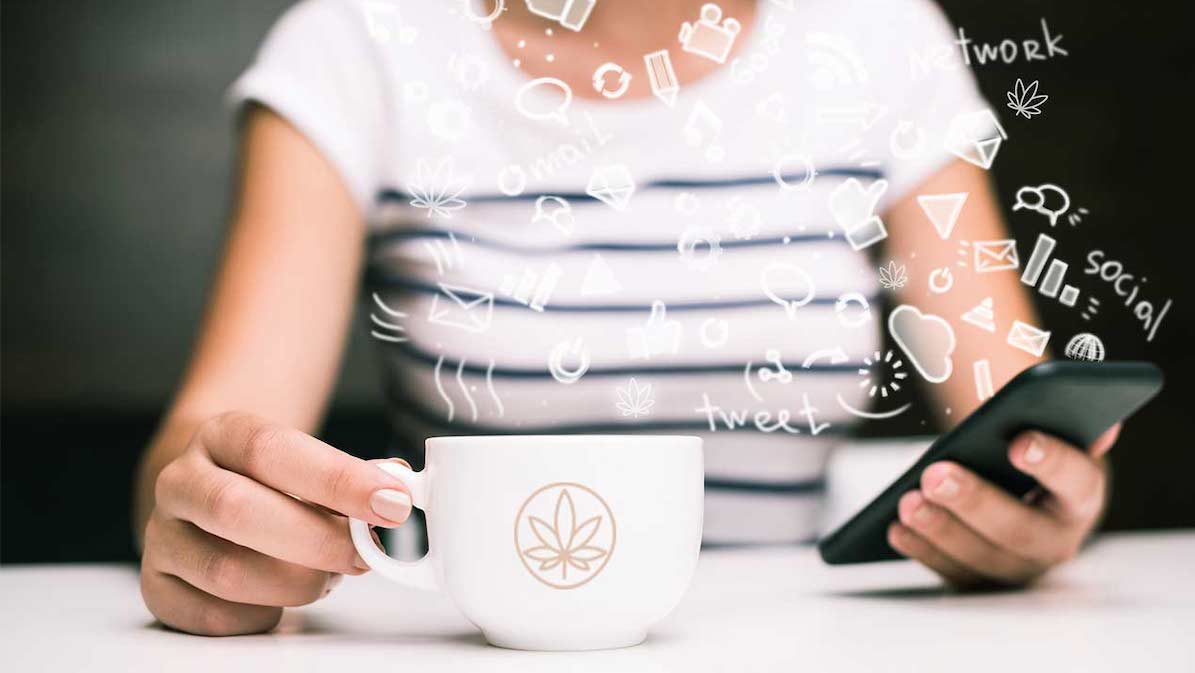 How Social Media Fits into Your Marijuana Marketing Strategy
With so many advertising channels shutting the door on cannabis, organic social media is the solution to your marijuana marketing strategy. Learn how social media can give your brand its big break.
There are a lot of limitations when it comes to marketing your cannabis business. You can't run paid media on almost any digital platform, even though cannabis is recreationally legal in California. Other traditional mediums are an option, but guaranteeing your audience is 71.6% 21 and older leaves a lot of room for illegal advertisement infractions. That doesn't mean you're cut off at the knees when it comes to spreading the word about your business, though it does mean you need to get creative. Growing your canna-business organically through events, social media, and public relations is where most brands are starting.
We've all heard of brands built upon social media, breaking out solely on the success of their influence. Creating a free social profile is the one option you currently have that is not against the major social networks' guidelines, or at least it falls into the gray area. Creating great content that your audience is interested in will grow your following through organic and earned media. Using the newest features available on social channels, like live video, will boost your content in the feed and help get eyeballs on your page. You can also work with influencers that are advocates for your brand to help you reach a larger audience.
Here are ways each social network fits into your marijuana marketing strategy.
Cannabis on Facebook
Largely an important social network for marketing products across all industries, Facebook remains at the top of the social game. The audience does skew towards adults, and Facebook does not allow advertising of cannabis. This falls into line with their ongoing rule of disallowing alcohol, pharma, or even dieting to be advertised. Cannabis creates even more complex legalities for the publicly traded social network because it is not federally legal, yet. The ban against cannabis on Facebook applies to both CBD and marijuana sales. Without advertising, there isn't much reach on messages posted by your Business Page organically. If you have a strong customer base, a Facebook profile or group would be beneficial to your brand and help you engage on a meaningful level. Start the conversation in person and encourage your base of Facebook friends to follow your Business Page. Many cannabis brands that we've spoken with have had their Facebook page shut down with thousands of followers lost. Do not invest too much into Facebook and always have a strategy to collect data that you can manage and own, such as a loyalty club or email list. Never promote the sale of cannabis products from your page in order to stay under the radar. Steer clear of political topics which Facebook has recently cracked down on to police "fake news". Do include "no sales" in your page bio.
Cannabis on Twitter
As a cannabis brand, you'll likely fly the lowest under the radar on Twitter. Many cannabis related businesses are already on Twitter and promote their products regularly. While Twitter does not technically "allow" promotion and advertising of federally illegal drugs, they tend to be pretty lenient. Use this channel to talk to other businesses, influencers, and keep up with the most relevant cannabis related news.
Cannabis on Instagram
Instagram allows you to capture the beauty of cannabis culture. Using Instagram to show an inside look at your company and product passion is a true advantage of the platform. Play with imagery, use real photography, and leverage influencers to convey what your brand is all about. The "Explore" page on Instagram rewards cool content, and is a unique way for new customers to find you online. Instagram is owned by Facebook, but appears to be more lenient than Facebook.com itself in regulating marijuana-related pages. Like Facebook.com, cannabis products cannot be advertised, but you will get more organic reach on your posts. Gain reach by using well thought out hashtags, sharing Stories, and by engaging with other pages on daily basis. Be sure to write "no sales" in your page bio.
Cannabis on YouTube
In 2018, YouTube cracked down on cannabis related channels and videos. YouTube is owned by Google, a publicly traded corporation that leans to the will of federal regulators. Keeping your video content educational and answering commonly asked questions will help keep your channel interesting and stay within the established guidelines. Promoting the use or sale of cannabis, legal or not, will likely get you flagged by the platform.
Cannabis on Snapchat
The most lenient of the social profiles. Snapchat has allowed advertisers to promote products that other channels would have shut down – like weight loss supplements. However they don't allow for illegal drugs or paraphernalia to be advertised. However, they will populate results when searching for marijuana related subjects in the Discover section of the platform. Snapchat (SNAP) is a publicly traded company that has fiercely held onto its independence by not being acquired by large networks like Facebook. It's a great way to reach millennials and customers in their early 20's spanning GenZ. You will, as a brand, need to put a lot of strategic thought into ways to use live updates, and keep it current and interesting. As always ensure your account is not promoting any illegal activities.    
Cannabis on Pinterest
All about the aesthetic, Pinterest won't let you advertise for cannabis but you can certainly design for it. Keep to the topics Pinterest is known for to have success on this channel: DIY, decoration, infographics, and beauty.
Other Marijuana Marketing Strategies Online
Other channels you might want to consider for cannabis specific social are Duby or The Weedtube. These don't have as large of an ecosystem as mainstream channels, but they are created specifically for cannabis.
There have been "social raids" on cannabis-related profiles and sometimes accounts can be shut down or locked without warning. For this reason, we recommend having multiple social profiles on each channel and not putting all your eggs in one social basket (diversify your assets). Post content that will give you as much grace as possible. Avoid promoting sales or prices of your products, so that it doesn't come across like you are intentionally trying to sell to minors. If your customers are interested in this information, have them send you a private message and answer it there. Some topics you might focus on are education, personal stories, products, etc. And, don't forget to own your database!
Social media still has the power to give a brand their big break. Create your channels today and start cultivating dank content. Need help? Check out The Cannabiz Agency.
DISCLAIMER: Cannabiz Digital does not sell cannabis. This publication covers business topics surrounding legal cannabis in California and the United States. It does not provide legal or medical advice. Consult your physician, lawyer, and local laws regarding cannabis. We do our best to provide current information at the time of publishing with no guarantees to accuracy. We understand this industry changes quickly and welcome your feedback. [Send Feedback]