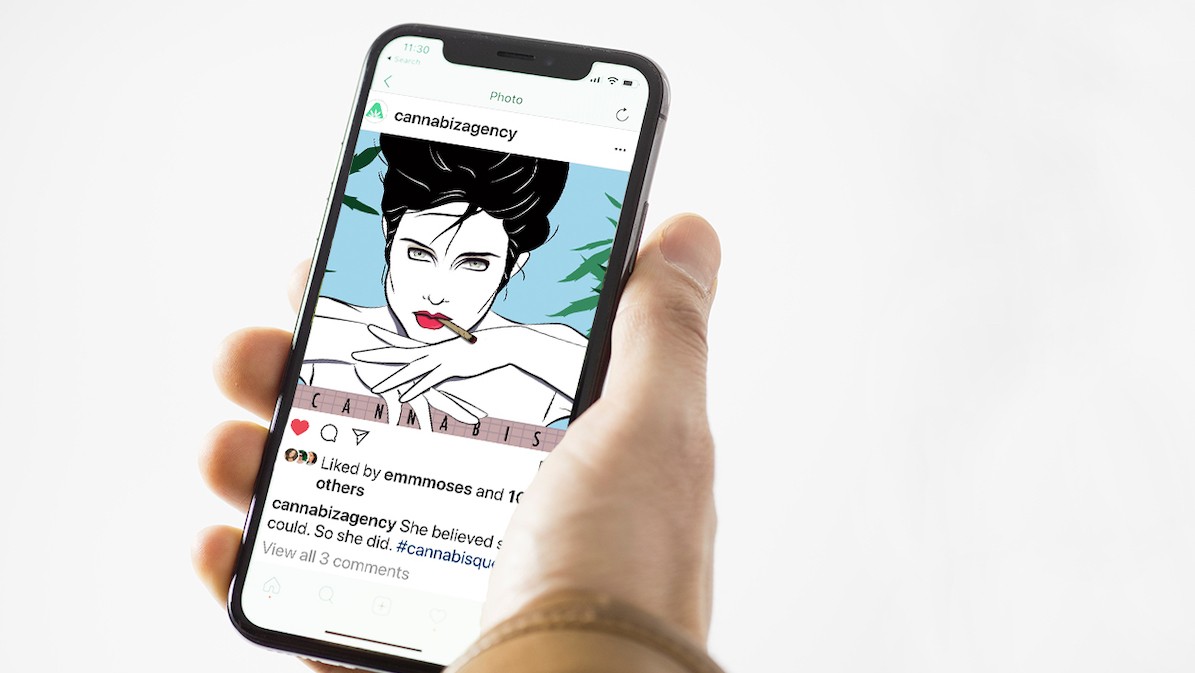 Six Cannabis Instagram Accounts To Watch
Instagram is a visual platform that can draw customers to your business. These six cannabis Instagram accounts are using social to boost visibility and create awesome content.
Over the years, social media has been on the rise in popularity among all age groups. In turn, this has pushed more and more companies to join social media in order to build their brand awareness. Companies you may not think would have a place on social media have found their niche. The same goes for cannabis businesses, because there are so many ways to get creative and capture attention of your target audience. This can be done with fun facts, art, user generated content, lifestyle, or branded photography. Here are just a few cannabis Instagram accounts that are taking advantage of all the platform has to offer.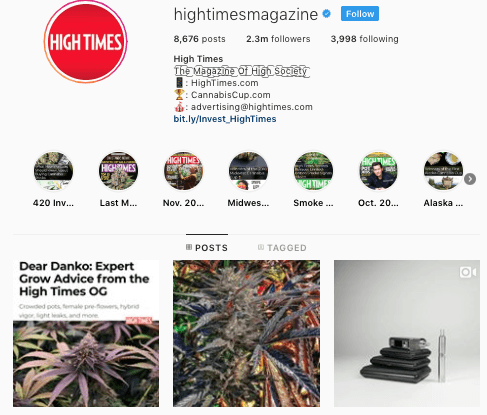 With over 2.3 million followers, High Times Magazine takes advantage of video, images, Instagram stories, and saved stories opportunities in Instagram. This account has a variety of content so that an array of users can find what they are looking for. From cannabis memes to facts and news, High Times posts frequently and keeps their viewers up to date on what's happening in the cannabis world.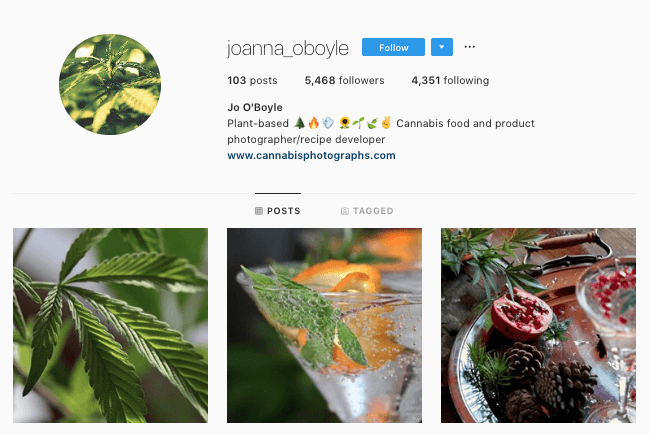 Joanna O'Boyle curates her Instagram with beautiful, high quality visuals that modernize the perception of marijuana and give it a more artistic feel. O'Boyle is a plant based cannabis food and product photographer. Her Instagram is filled with creative cannabis-infused dishes, drinks, and artfully curated content that will inspire anyone. In addition to these tasty shots of food and drinks, O'Boyle also provides recipes with each photo, making it possible for you to bring these pictures to life in your own kitchen.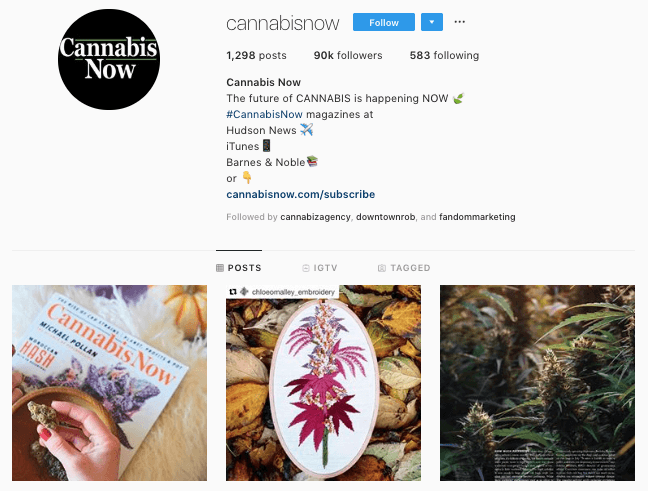 The cannabis industry is always changing and can be hard to keep up with, but not when you're following the right people. Cannabis Now is filled with gorgeous cannabis photography, as well as facts and news. In addition to their informative Instagram, Cannabis Now has a bi-monthly magazine that you can easily subscribe to directly from their profile. The strategic use of the link in their bio allows them to build not just their Instagram following, and also build email subscribers.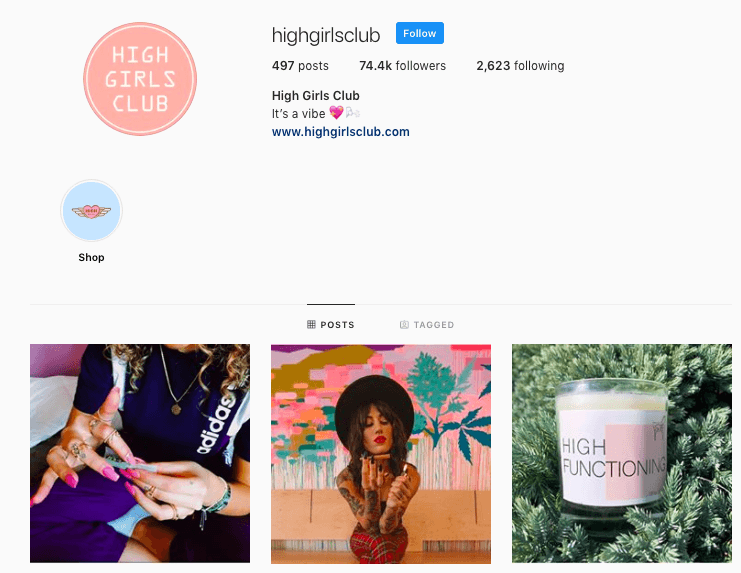 High Girls Club offers a different view on cannabis products. Most posts are user generated artwork, relating to their curated aesthetic. By highlighting on content created by other users on Instagram, High Girls Club has been able to establish a direct relationship with their followers, including them in the creative process of what they post on their social media platform. They keep a consistent vibe across their page by bringing in lots of pinks, pastels and artistic product placements.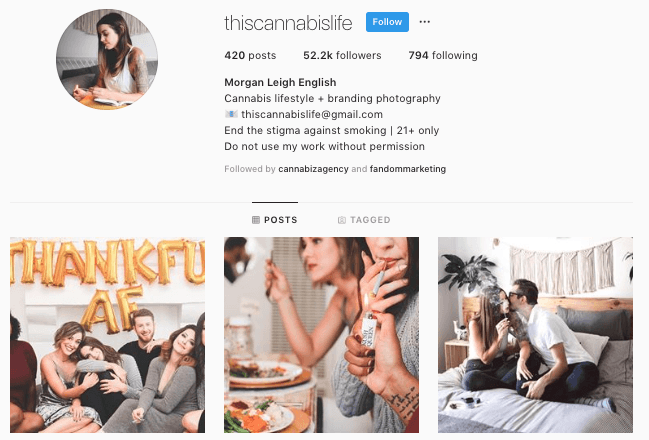 Morgan Leigh English does an incredible job of sticking to her brand while capturing cannabis in a positive light. She's working to change the cannabis stigma with photography that doesn't scream cliche. All of her lifestyle content uses real and accurate portrayals of how cannabis is used on a daily basis by its consumers. Boasting over 52 thousand followers, English uses her skilled eye, hashtags, and replies to comments to build a dedicated following.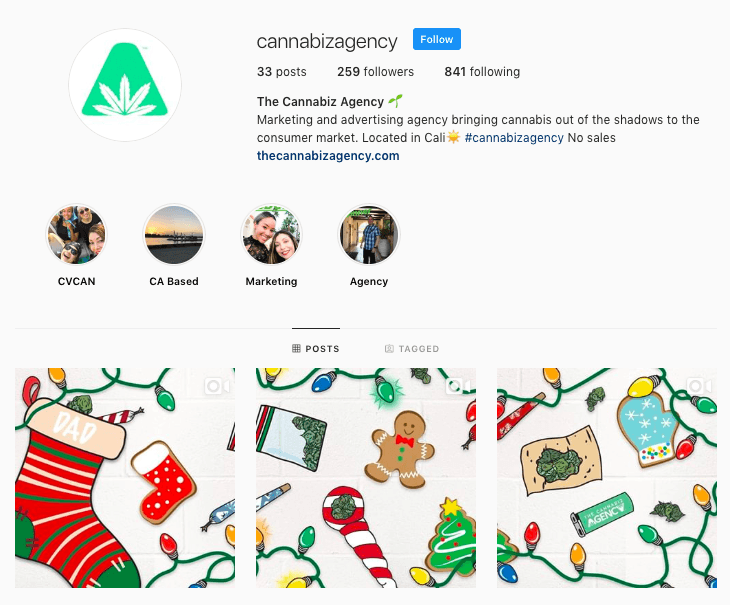 No two posts will ever be the same when you follow The Cannabiz Agency. Cannabis has evolved over generations, and perceptions have followed. Every panel posted captivates the essence of a different time period and outlook on cannabis. See how The Cannabiz Agency tackles the bigger picture when creating powerful image and video posts. For more light-hearted, and real time content make sure to view their stories.
Creating Your Own Instagram Content
Get inspired to fill your Instagram timeline with creative imagery and informative content on the cannabis industry by following these accounts. Remember to always keep your work original, and in the event of using user-generated content, give credit where it's due. Looking to make your Instagram work harder for your business? Get more advice from the experts.  
DISCLAIMER: Cannabiz Digital does not sell cannabis. This publication covers business topics surrounding legal cannabis in California and the United States. It does not provide legal or medical advice. Consult your physician, lawyer, and local laws regarding cannabis. We do our best to provide current information at the time of publishing with no guarantees to accuracy. We understand this industry changes quickly and welcome your feedback. [Send Feedback]