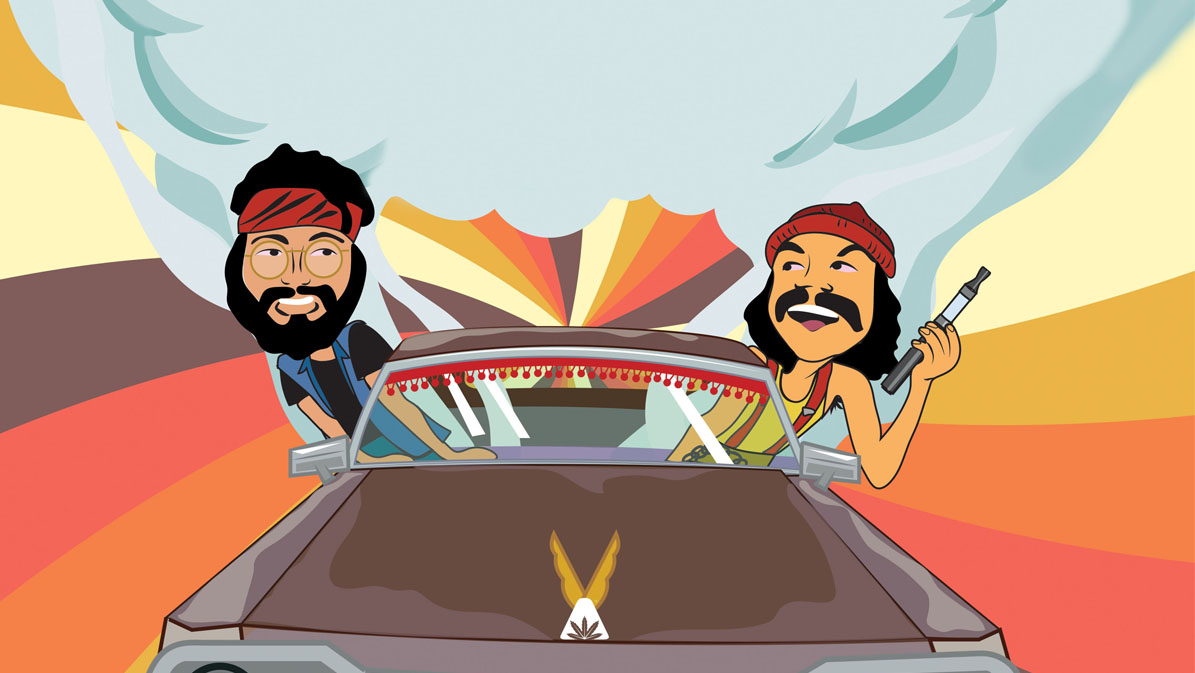 Tommy Chong and Cheech Marin Make Multi-state Dispensary Deal with Five Point Holdings
Cheech & Chong's management company to license the Cheech & Chong Brand to initially open dispensaries in California, Nevada, Arizona, Illinois and Washington. The license will allow the company to develop experiential cannabis dispensaries utilizing the Cheech & Chong brand name.
Tommy Chong and Cheech Marin, names practically synonymous with cannabis culture, are making a long-awaited leap into the dispensary business. They have entered into a licensing partnership with Five Points Holdings Inc., which includes opening dispensaries in 5 states — complete with Cheech & Chong memorabilia.
Many expected a deal like this years ago, given their iconic status, but Chong says now is the right time. "I always operate on stoner time, so I'm actually a little early [with this deal]," he said in an interview with Cheddar.
The initial dispensaries will be opened in California, Nevada, Arizona, Illinois and Washington, with the hope to expand worldwide according to Chong. The dispensaries are expected to feature a one-of-a-kind retail experience with products from popular cannabis brands, a throwback setting commemorating the duo, and for the first time ever, a place to purchase Cheech & Chong clothing and memorabilia.
The pair has gotten offers for similar deals before, but Chong says the move with Five Points Holdings is the right fit for them. "Our stores are going to be incredible, state of the art. You're talking about the guys who invented this lifestyle practically," said Chong.
During the coronavirus pandemic, Chong says existing dispensaries earned an additional layer of legitimacy. "The virus really helped us in the sense that we were deemed an essential business. They couldn't shut anybody down."
As for himself, the 82-year-old comedian said he is enjoying his time and taking care of his plants. "I don't mind staying home with my little babies growing on the roof."
First posted on Cheddar.com
"Cheech and I have waited patiently to find the right combination of talent and the right team to trust with the Cheech and Chong properties. We both pursued our own individual projects knowing if the right opportunity came along we would do something with our Cheech and Chong brand and with Five Point Holdings Inc. we have the winning combination," said Tommy.

"The Cheech and Chong movies, songs and comedy bits have helped shape and mold the weed culture as we know it today. Now we're bringing that trusted, funny and familiar cannabis comedy experience into the store environment," Cheech added.
The stores will sell branded Tommy Chong's and Cheech's Private Stash products as well as other brands and their own Cheech & Chong merch. Watch the interview on Cheddar
Image Credit Illustration at Top: The Cannabiz Agency
DISCLAIMER: Cannabiz Digital does not sell cannabis. This publication covers business topics surrounding legal cannabis in California and the United States. It does not provide legal or medical advice. Consult your physician, lawyer, and local laws regarding cannabis. We do our best to provide current information at the time of publishing with no guarantees to accuracy. We understand this industry changes quickly and welcome your feedback. [Send Feedback]